Interdisciplinary Studies A.A. [Online]
Centered on Christ and His Word, the online A.A. in Interdisciplinary Studies program enables you to craft your education around your interests and passions. In this program, you create an individualized path to graduation that is aligned with your unique personal career goals.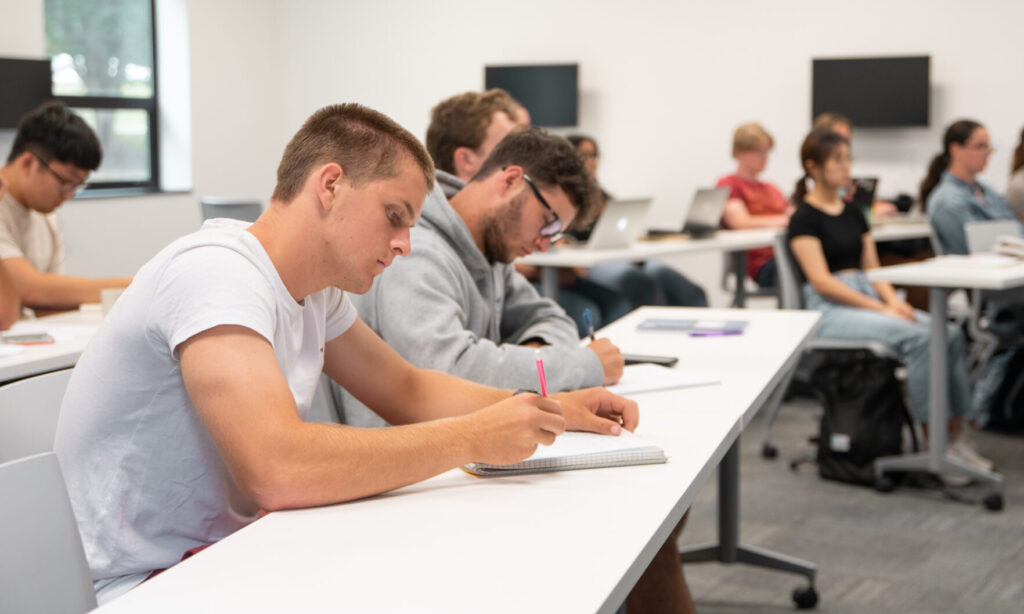 Why Interdisciplinary Studies?
Today's college graduates are more likely to work in multiple fields and hold a variety of jobs. This shift necessitates that college students possess a broad skill set and a high level of adaptability. Interdisciplinary studies is a program that allows students to study two or more academic disciplines under one degree — taking the knowledge of one discipline and applying it to another for a broader perspective. This puts the student in charge of their learning to fulfill their plans for a future career and makes them more marketable in the workforce.
Create a degree tailored to your specific goals
You're equipped with a wide range of knowledge as well as the critical and analytical skills needed to be successful in the workforce. You'll be empowered to blend courses from multiple disciplines, providing you with boundless opportunities to explore and discover what inspires you.
The A.A. in Interdisciplinary Studies program has been designed with input from our expert faculty in the School of Business, Divinity and Liberal Arts and Sciences, ensuring you graduate with the in-demand skills and knowledge that employers are looking for. The program requires 30 credits from the core curriculum and 30 credits from courses that interest you.  View a sample curriculum sheet to give you clearer picture of the courses you will complete.
A.A. in Interdisciplinary Studies from Cairn
Get an inside look at our Interdisciplinary Studies Program
There are over 70 unique programs at Cairn to choose from! Not sure if this is the best program for you? Here are some more details to help you decide.
of students who apply for financial aid receive funds
In possible merit scholarships available for each student
scholarships and awards available
While the cost of a Cairn University education is competitive with similar institutions, we realize you may need financial assistance to take this journey.  You are not alone. 97% of our full-time undergraduate students receive some form of financial assistance. 
Chair, Humanities Department; Assistant Professor, School of Liberal Arts & Sciences
After graduating from Cairn University in 2000, Charlotte taught high school English in public schools both in Pennsylvania and New York. Her high school students inspired her to reconsider the place of adolescent literature in the classroom, and in 2006 she completed her thesis on how to integrate both the classics and YA literature in the classroom.
The birth of her first son led her to pursue higher education, and in 2007 she accepted a position as a part-time faculty member at Cairn University. During the last two decades, Charlotte has taught in a variety of classrooms and developed curriculum for private Christian schools and home school families, including her own. Recently, Charlotte transitioned to a full-time role at Cairn. She teaches a variety of literature, composition, and education courses and serves as the Chair of the Humanities Department in the School of Liberal Arts and Sciences.
Outside of Cairn, Charlotte spends time with her family and her church community. She met her husband, Jamie '00, at Cairn's Wisconsin Wilderness Campus. Together they have three children.
Dr. Kuchinsky-Smith teaches on a variety of topics across psychology and research, including probability and statistics. Dr. Kuchinsky-Smith has taught at the university level for more than 30 years across the disciplines of education, special education, music, and psychology. In addition, her professional experience has taken her from the Pennsylvania Department of Education in Harrisburg to the Philadelphia Prison Systems to the School District of Philadelphia to the Milton Hershey School to freelance writing at Patch.com to Lehman Memorial United Methodist Church in Hatboro, PA, where she currently serves as music director.
In addition to significant work in the field of school psychology, Dr. Kuchinsky-Smith published "Effectiveness of the MMPI-A to Differentiate between Counseled and Non-Counseled Students" at Temple University under the supervision of Leslie Skinner, PhD She also worked in child advocacy and psychological abuse in children at Temple University under the supervision of Irwin Hyman, EdD Before her academic work in psychology, she worked on deaf history and advocacy in education at Albert Einstein College of Medicine with Oliver Sacks, MD and infant development and vocalization at Child Development Research Center, Sands Point, New York with Judith S. Kestenberg, MD.
What Our Students Have To Say
Cairn Online Frequently Asked Questions​
Ready to take the next step? You can apply today!