Sport Management (BS) + MBA Dual-Level Program
Prepare for a career in the broad field of athletics while you gain a highly marketable Master of Business Administration.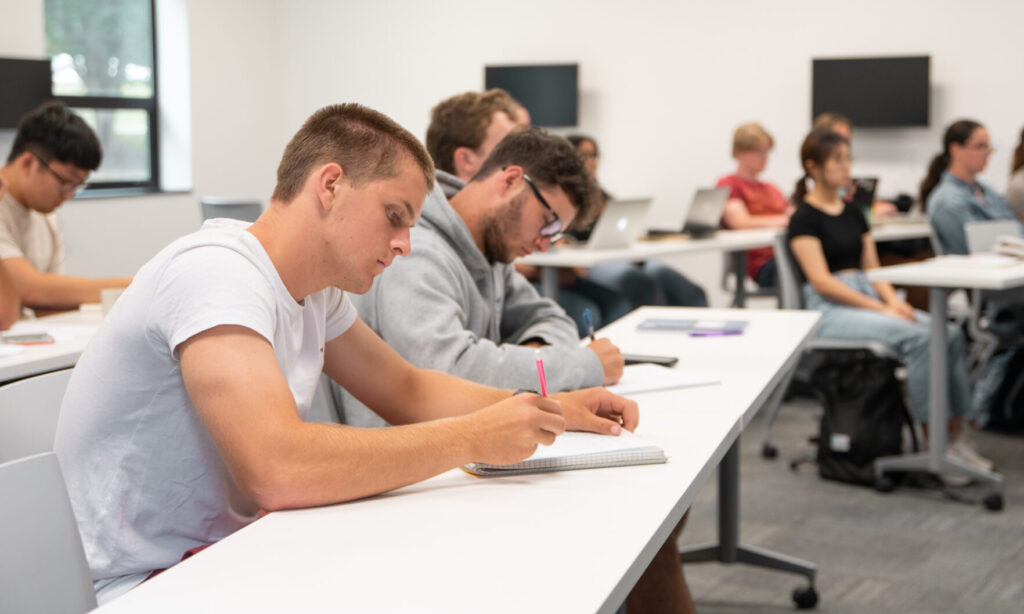 Why Sport Management + MBA?
A degree in Sport Management provides the opportunity to pursue a career in a field that is all about fun. Additionally, a Master of Business Administration equips students with the business knowledge and skills needed to succeed in a broad range of fields. If you love all things sports, want to learn more of the behind-the-scenes, and are a student-athlete or a weekend warrior, a sports management degree can help fuel your sports passion.
This dual-level program allows you to condense what would be six years of study (four-year bachelor's + two-year master's) into just five years by starting master-level courses as early as your junior year. You'll be able to complete all requirements for both degrees in as few as five years without taking summer courses.
You will also continue to receive your undergraduate scholarships and tuition aid for all five years of study, which will save you thousands of dollars.
Sport Management + MBA at Cairn
Get an inside look at our Sport Management + MBA Program
There are over 70 unique programs at Cairn to choose from! Not sure if this is the best program for you? Here are some more details to help you decide.
Required Credits: 150
Curriculum Highlights: 
BUS 373 Sports Faciltities Mgmt
BUS 491 Business Policy and Strategy
BUS 603 Finance
BUS 606 Legal Environment of Bus
BUS 691 Strategy
BUS 607 Operations
Business Operations of large sports corporations
Athletics Director
Own and operate a rock gym or fitness center
Own and operate a sporting goods store
Any other number of careers requiring a business degree
of students who apply for financial aid receive funds
In possible merit scholarships available for each student
scholarships and awards available
While the cost of a Cairn University education is competitive with similar institutions, we realize you may need financial assistance to take this journey.  You are not alone. 97% of our full-time undergraduate students receive some form of financial assistance. 
Passionate about sports his entire life, Phil went to Grace College in Indiana for two years before transferring to Penn State University to receive a BA in Communications. Following this undergraduate degree, he received an MEd in Sports Administration from Temple University. While completing his studies, he was hired by the Philadelphia Phillies and served there for 30+ years. He ended his time as Director of Ticket Services at the end of 2020.
Yunn Kang serves as Cairn University's Sr. VP for Finance and teaches courses in accounting, finance, tax, auditing, applied statistics, international business, and creativity and innovation.
A former Certified Public Accountant, Yunn Kang came to Cairn after a career serving as finance manager for a retail chain, Director of Finance for a healthcare provider, and several years in public accounting as an auditor and consultant for KPMG LLC, a US audit, tax, and advisory services firm. While at KPMG, he audited clients in healthcare, telecommunications, and biotechnology, in addition to consulting for financial services firms and banks.
He is also ordained as a pastor and has served as a pastor at local Presbyterian churches.
What Our Students Have To Say
Ready to take the next step? You can apply today!