Dual Enrollment Cairn Online
Jump-start your college education from wherever you are!
The Cairn Online Dual Enrollment program offers high school students the opportunity to take college courses from anywhere and build a college transcript before they receive their high school diploma while also paying less for tuition!
Dual enrollment classes are college classes taken while in high school. As college becomes more expensive, dual enrollment offers high school students the opportunity to get ahead academically while also saving on the cost of higher education.
Dual enrollment is a great option for students coming from any high school setting, whether private, public, or home schooled. Through an integrated use of AP courses, dual enrollment classes, and dual credit college classes, students can complete over a year's worth of college credits while completing their high school studies. Students may also earn high school and college credit simultaneously if their high school approves.
Why Cairn Online Dual Enrollment?
Committed to a tradition of delivering Christ-centered education for more than 100 years, Cairn University has built the online courses from the ground up to help prepare biblically minded students with a solid foundation in biblical truth. The courses offer the same quality instruction as onsite. It is the same curriculum, the same faculty but delivered in a convenient and flexible online format.
Cairn Online Dual Enrollment Courses
*Core curriculum course. It can count towards any Cairn program.
Not all courses are available every semester. Please refer to the course rosters or contact one of our admissions counselors for a list of available courses for the upcoming semester.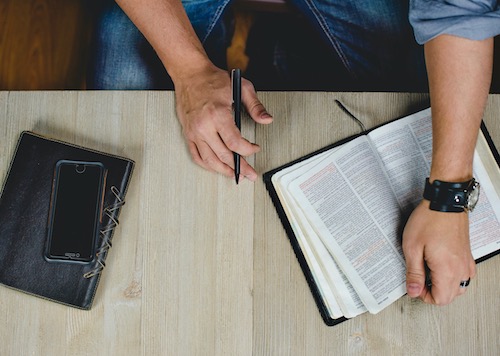 I enjoy online learning just as much as I do being in the classroom. The teachers are just as accessible as they are when a course is taken on campus. I appreciate the opportunity to learn online. 
Monica C.
Jump-start Your College Education
As a dual enrollment student, you'll enjoy 80%+ discounted tuition* while saving on housing and living expenses. 
Taking 4-5 Dual Enrollment courses can shorten your college time by one semester resulting in thousands of dollars in savings when in college. 
Families who pay for dual-enrollment credits may use a 529 plan to cover tuition costs. 
*based on regular tuition rate.
Cairn classes foster intense intellectual engagement and genuine interaction with professors and peers both onsite or online. You will receive the same credits as the undergraduate students. These courses also help home education programs meet academic criteria for the state of PA and/or other states.
Cairn is regionally accredited and you can transfer the earned credits to other accredited colleges or universities (Christian or secular). Subjects like English composition, American history, and mathematics can count toward both high school graduation and your college transcript.
Upon completion, you will have an official college transcript on file, which may be applied toward a degree at Cairn or transferred to another college or university. No limit to how many you can take!
Cairn University is committed to the centrality of Christ and the Word of God and is reflected in the curriculum and instruction. We must do more than say it matters, we must act in a way that demonstrates it matters.
All instruction is grounded in the timeless Truth of God's Word. No matter what your intended career path or field of study, Cairn is committed to helping you think about your career through a biblical worldview.
By taking college level classes now, you set yourself up for success when attending college. 
Tuition and Dual Enrollment Options
CAIRN ONLINE
Flexibility to Learn from Anywhere

Committed Faculty Mentors

Rigorous Asynchronous Instruction
Learn in a Classroom Setting

Experience College Onsite
DUAL ENROLLMENT PARTNERSHIPS
A Cairn education in your classroom
Available to Juniors and Seniors

Taught by Christian School Faculty

AP or Honors Equivalent Courses

A Cairn Education in your Classroom