Pre-Physical Therapy — Exercise Science (BS)
Whether you're interested in athletic training or injury recovery, build a foundational understanding of care for the human body in preparation for graduate school.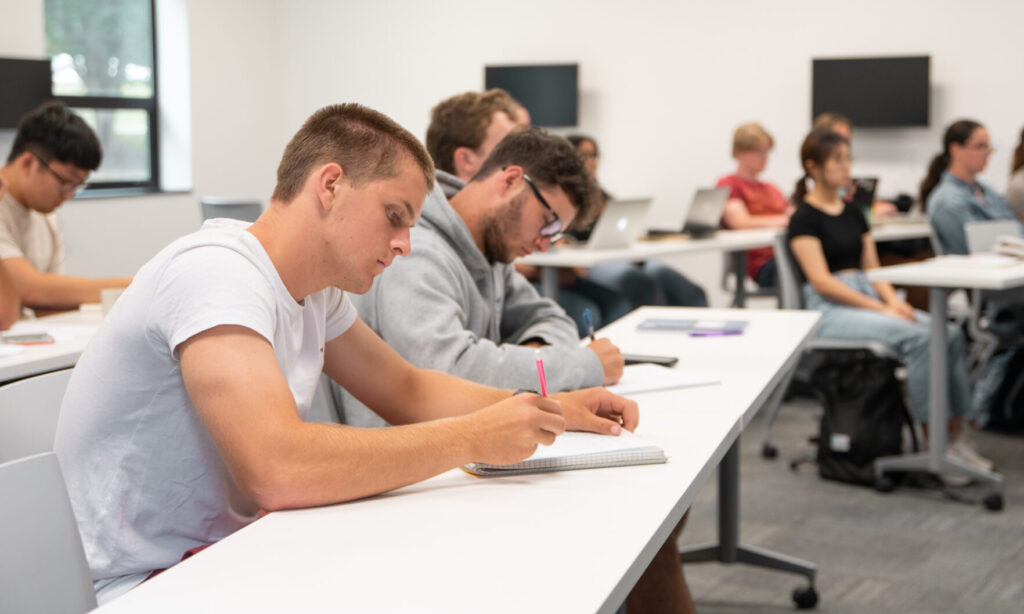 Why a Pre-Physical Therapy — Exercise Science (BS) Degree?
This program is designed for students who want to pursue a career as a DPT, Doctor of Physical Therapy. Students who study pre-physical therapy at their undergraduate institution complete prerequisites for the doctoral program and are better prepared for doctoral coursework than other students who are attempting to enter the program with a different undergraduate background. Choosing this program shows that you have a laser-like focus on your future career and are taking the best steps forward. Of course,  this program serves as a solid platform to launch into other career options as well.
Pre-Physical Therapy — Exercise Science (BS) at Cairn
Get an inside look at our Pre-Physical Therapy Program
There are over 70 unique programs at Cairn to choose from! Not sure if this is the best program for you? Here are some more details to help you decide.
Required Credits: 127
Curriculum Highlights:
BIO 331 Human Anatomy/Physiology
BIO 321 Genetics 
BIO 431 Exercise Physiology Lab
BIO 451 Bioethics
Physical Therapist
Assistant Physical Therapist
Athletic Trainer
of students who apply for financial aid receive funds
In possible merit scholarships available for each student
scholarships and awards available
While the cost of a Cairn University education is competitive with similar institutions, we realize you may need financial assistance to take this journey.  You are not alone. 97% of our full-time undergraduate students receive some form of financial assistance. 
Aneesh Khushman is the son of Indian immigrants whose Christian faith heritage can be traced back to his paternal grandparents who served as a cook and nanny to American missionaries.
Heeding God's calling to the mission field, Aneesh served as a medical missionary in rural central India, ministering in the same hospital where his grandparents worked as servants. Treating the underserved and unsaved, Aneesh witnessed the saving gospel of Jesus Christ to those suffering from the stigma of leprosy and infant/maternal mortality in the face of local Christian persecution.
Prior to joining the faculty of Cairn University in 2019, Aneesh was Professor of Health Sciences and Biology Coordinator at Manor College in Jenkintown for six years where he developed a broad-ranging experience in assessment, accreditation, and administration. He was also an adjunct instructor of anatomy and physiology at Bucks County Community College, Harcum College in Bryn Mawr, and Salus University in Elkins Park. At Cairn, Aneesh has developed multiple courses and facilities for the Biology program. Examining science through the lens of faith, he inspires students to seek their calling into health missions, as well as to biblically integrate all aspects of the discipline of science. 
Aneesh is married to his wife, Tripti. He serves as an elder at Leverington Church in Philadelphia. He enjoys vegetable gardening (as well as being a foodie), traveling, and the sport of cricket. A dual US/Indian citizen, Aneesh regularly returns to his family farm in central India and participates in short-term medical missions there.
After receiving a Bachelors of Science (Honours) from the University of Sussex in Brighton, England, Dr. Bell went on to receive his PhD in Chemistry from the University of Pittsburgh with a focus on organic and polymer chemistry. While he has never been on a formal mission trip, Stephen's testimony is such that his entire work life has been one where he follows the Lord's guidance for where he should be next, being blessed with success at each stop. His work has included leading oilfield chemical research groups in Texas and New Jersey, being a CEO to a chemical company in Pennsylvania, and then being "forced" to accept an incredible opportunity to do the Lord's work as a high school teacher on the island of Maui in Hawaii (some unexpected mission trips are harder than others). In 2020, he landed back in Pennsylvania focusing on adjunct work at Montgomery County Community College and teaching chemistry at Springside Chestnut Hill Academy before coming to Cairn. Outside of teaching Stephen loves all things comedy, running, soccer, and is currently attending Cresheim Valley Church in Chestnut Hill.
Ready to take the next step? You can apply today!