You applied to Cairn—that's great!—but maybe you haven't been on campus yet. Or maybe you already visited, but you still have some questions about what it's like to be a student here. Whatever the case, we would love to invite you to get (another) firsthand look at the Cairn University experience. 
Take a campus tour, sit in on a class, enjoy a meal in the dining commons, meet with faculty and staff, and get answers to your enrollment and financial aid questions.
Stop wondering what it's like to be a part of the Cairn community—schedule your visit today and find out for yourself!
Experience Cairn Day Itinerary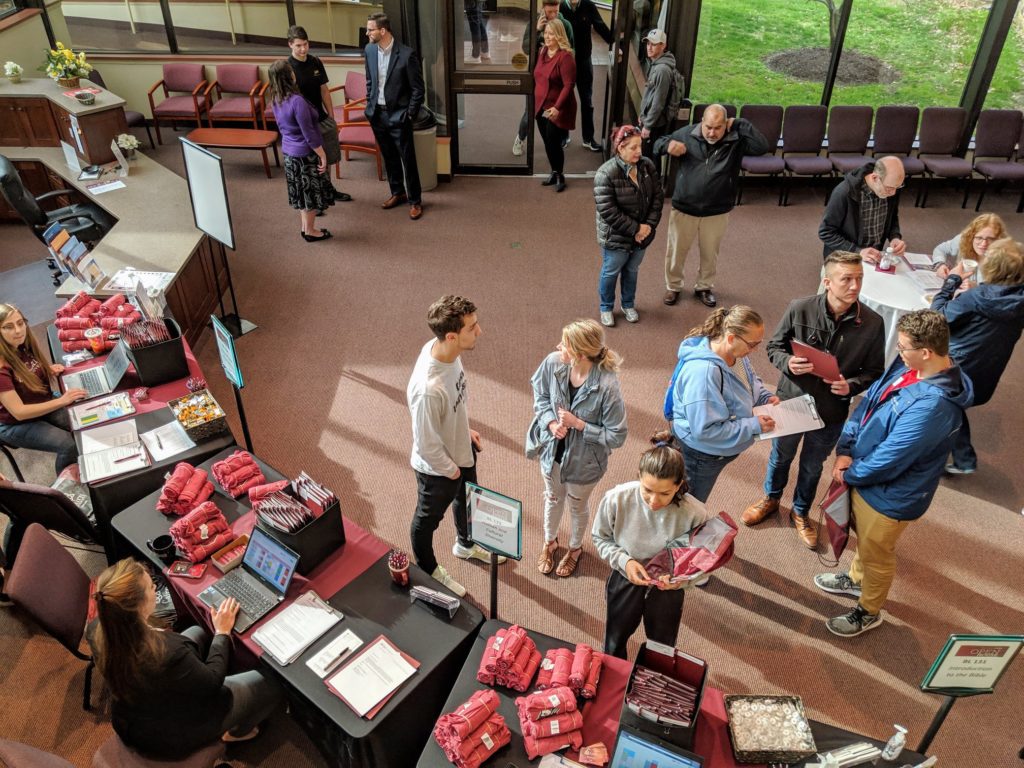 8:30 AM
Check-in & Welcome Session
Begin your campus visit with a continental breakfast in the Stearns Lobby and a time to meet with faculty and staff.
Experience Cairn Day officially kicks off at 9 am with a brief word from the University president and the Assistant VP of Enrollment.
9:30 AM
Meet Our Professors
Meet with faculty from our various schools and departments to learn more about your specific academic interests.
10:30 AM
Student Life Presentation & Chapel
Learn about everything the Office of Student Life has to offer; then join the rest of the Cairn community for a time of worship.
11:40 AM
Lunch
Join our student body for a complimentary lunch in the Furman Dining Commons.
Student-athletes can tour our athletic facilities and meet with coaches over lunch.
12:45 PM
A Word from the President
Hear from Cairn University President, Dr. Todd J. Williams.
Personalized Options
Class Visits (Students only, 1:15–2:30 pm)
Financial Aid Information (1:15–2:15 pm)
Dessert Reception (1:30–3:30 pm)
Admissions Information (2:30–3:30 pm)
Tour Residence Halls (2:30–3:30 pm)
Meet with representatives from the School of
Music and Student Life (2:30–3:30 pm)
*Overnight Experience Cairn Day Option
During select Experience Cairn day events, high school seniors have the option to stay overnight on campus. Shadow a current student, participate in fun Student Life activities, and stay the night in a residence hall for an even deeper look into the Cairn experience.
Overnight accommodations are limited to students and are filled on a first-come basis. Parents/guardians can view a list of local hotels here. 
Friday, 4:30 pm Overnight Check-in & Connect with Student Host
5 pm Complimentary Dinner
7 pm Student Life Event
9 pm Free Time with Host
Saturday, 8 am Complimentary Breakfast
9:30 am Pick Up
Register for Experience Cairn Day
For more information or assistance with scheduling a visit, please email [email protected] or call 215.702.4235.