Secondary Social Studies Education (BS)
Learn the proper pedagogy for teaching Social Studies for 7–12 grade and an educational approach to create a supportive environment for the whole person—mind, heart, and soul.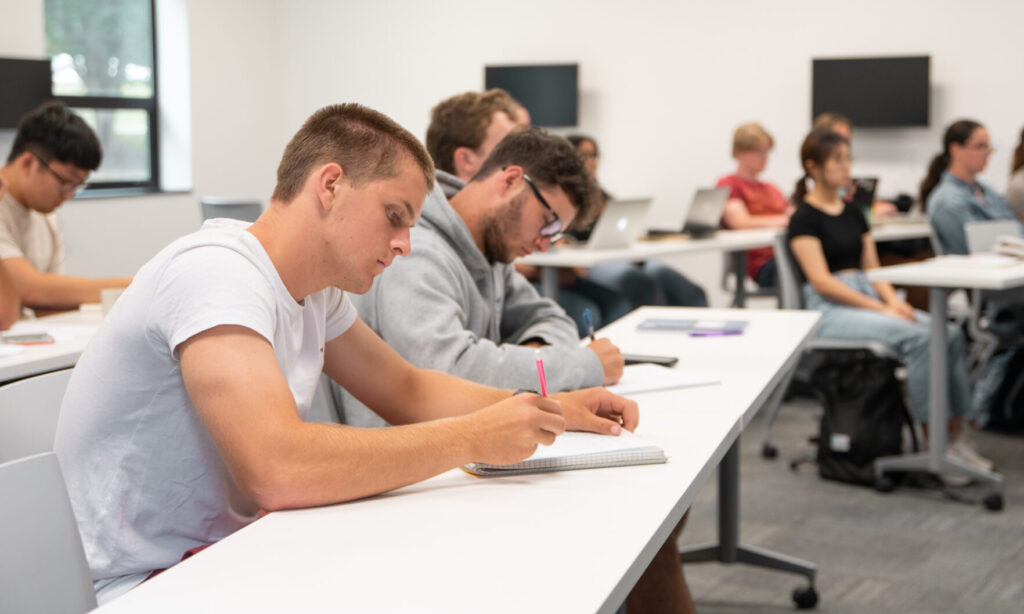 Why Secondary Social Studies Education?
A Secondary Social Studies program is designed to develop critical and creative thinking, reflection on practice, and the disposition to engage children actively in their own learning. The curriculum includes three integrated components: a body of general studies to develop a depth in social studies content knowledge; education courses to align learning theory, curricular design and subject-specific methodology practices in social studies; and performance-based school placements for applied, contextual practice in a secondary social studies classroom. Certification includes PA State Secondary Social Studies Instructional I (Grades 7-12) as well as Association of Christian Schools International Secondary Social Studies (Grades 7-12); certification in Special Education 7-12 and/or TESOL PK-12 may be added to the secondary social studies education program.
Secondary Social Studies Education at Cairn
Get an inside look at our Secondary Social Studies Education Program
Required Credits: 127
Curriculum Highlights: 
SOC 202 Sociocultural Studies
EDU 485 Teach Secondary Soc St I
EDU 402 Ed Assessment/Adapt
EDU 593 Student Teaching
Secondary classroom teacher (middle school of high school) in public, Christian, other private, or international school
Special Education 7-12 and/or TESOL K-12 classroom teacher, support personnel, or co-teacher.
Master degree programs and certification add-ons, such as Reading Specialist, Librarian Specialist, and Business, Computers, and Information Technology (BCIT) Specialist open up the opportunity to specialize
There are over 70 unique programs at Cairn to choose from! Not sure if this is the best program for you? Here are some more details to help you decide.
of students who apply for financial aid receive funds
In possible merit scholarships available for each student
scholarships and awards available
While the cost of a Cairn University education is competitive with similar institutions, we realize you may need financial assistance to take this journey.  You are not alone. 97% of our full-time undergraduate students receive some form of financial assistance. 
Director of Student Teaching and Field Placement; Program Advisor, Secondary Education; Assistant Professor, School of Education
Becky Cella teaches English composition, literature and arts of the Western world, and teaching English in the secondary school.
Prior to joining Cairn University, Ms. Cella taught English at International Christian High School and Esperanza Charter High School, as well as Sunday School at Riverstone Church in Yardley, PA.
She has been on missions trips to Belize and Liberia, West Africa, and has a passion for using effective classroom management to reach at-risk students. She and her husband, Matt, have two children: Gavin and Grayson.
Professor Zimmerman teaches history and humanities courses for the School of Liberal Arts and Sciences. He previously spent 11 years as a Public High School and Middle School teacher in North Philadelphia. He is married to his wife, Anna, and together they have three children: Michael III, Valyn and Leonidas.
Ready to take the next step? You can apply today!