Politics, Philosophy, and History (BA)
Combine your interests in politics, philosophy, and history with a biblical foundation. A PPH degree will lead you in the human search for truth, beauty, and justice as you learn about the ideas and constitutional systems that have shaped our world.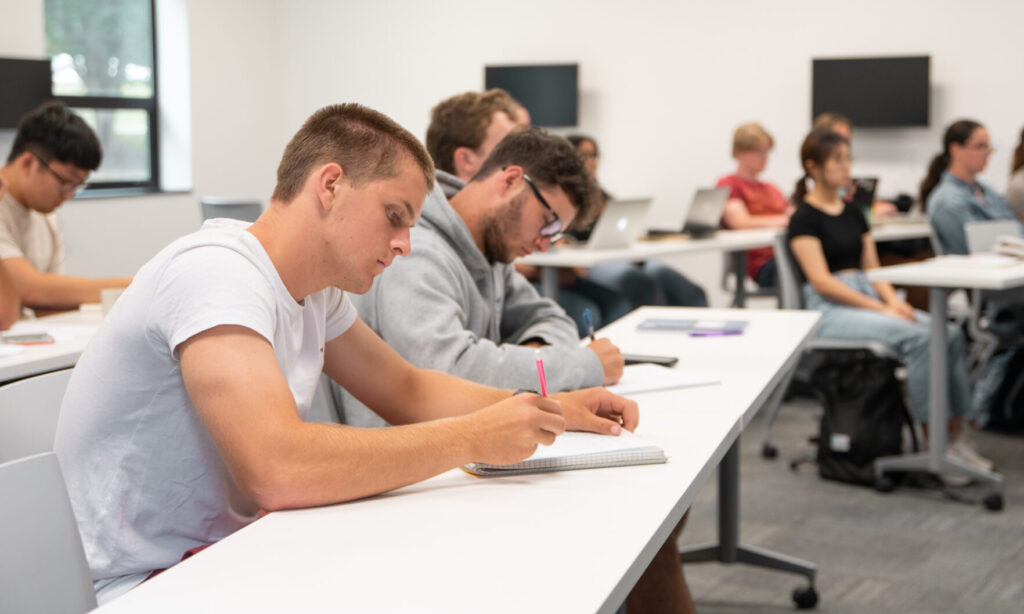 Why Politics, Philosophy, and History?
A BA in Politics, Philosophy, and History trains students in the liberal arts tradition, teaching them to achieve intellectual liberty (from the Latin liberalis) through the cultivation of the mental arts (from the Latin ars). Students acquire this freedom by learning to read any text, conceptualize any endeavor, and persuade others through any form of writing and speaking. 
Politics, Philosophy, and History should not be studied in isolation. Students in the PPH program at Cairn will integrate these disciplines as they wrestle through the enduring and fundamental questions of human existence. What does it mean to be human? What is the good? How can a society value and instill goodness in humanity? 
Students will understand the ideas, events, and people that brought us to our current moment. They will be equipped to bring the insights of history to the challenges of contemporary society. Politics examines the problems of society and offers solutions based on justice. Philosophy conceptualizes what justice is. History reveals how humanity has succeeded or failed in achieving justice. 
PPH graduates know how to think, cultivate new skills, and adapt to the needs of the moment, assets any employer looks for in job candidates. Most importantly, they have learned how to lead others in making moral choices. PPH at Cairn is unique to other PPE or interdisciplinary programs throughout the world in that it prioritizes God's revelation in Holy Scripture. We believe what Christ taught, that when we abide in his Word and become his disciples, we can then know the truth, and the truth will set us free (John 8:31–32).
Politics, Philosophy, and History (BA) at Cairn
Get an inside look at our Politics, Philosophy, and History Program
There are over 70 unique programs at Cairn to choose from! Not sure if this is the best program for you? Here are some more details to help you decide.
Required Credits: 120
Curriculum Highlights: 
POL 321 Political Philosophy
PHI 333 Truth & the Human Person
POL 323 Statesmanship
PHI 432 Ethics
Legislator or Legislative Aide
Lawyer
CEO
Entrepreneur
Business Consulting
International Law
Government Service
Public Historian
Public Policy Analysis and Development
Political Campaign Manager
Museum Curator
Public Affairs Specialist
Archivist
Political Scientist
of students who apply for financial aid receive funds
In possible merit scholarships available for each student
scholarships and awards available
While the cost of a Cairn University education is competitive with similar institutions, we realize you may need financial assistance to take this journey.  You are not alone. 97% of our full-time undergraduate students receive some form of financial assistance. 
Professor Zimmerman teaches history and humanities courses for the School of Liberal Arts and Sciences. He previously spent 11 years as a Public High School and Middle School teacher in North Philadelphia. He is married to his wife, Anna, and together they have three children: Michael III, Valyn and Leonidas.
In addition to teaching politics courses at the University, Greg Shaller is the president of The John Jay Institute, a one year program that "prepares principled leaders for faith-informed public service." Greg previously served as associate professor of politics at Colorado Christian University, where he taught from the fall of 2009 until May of 2017. At Colorado Christian, Greg developed a political science major in the fall of 2011, which now has over 45 students in it.
Additionally, Greg is a fellow at the Centennial Institute, Colorado Christian University's public policy think-tank. His work with the Centennial Institute includes writing for their blog and in their monthly policy review, The Centennial Review. He also assists with the planning and coordination of the Centennial Institute's Western Conservative Summit, a summer conference which is attended by over 3,000 people annually.
Greg has also taught at Villanova University and St. Joseph's University in Philadelphia. He is pursuing his PhD at the University of South Dakota.
Ready to take the next step? You can apply today!