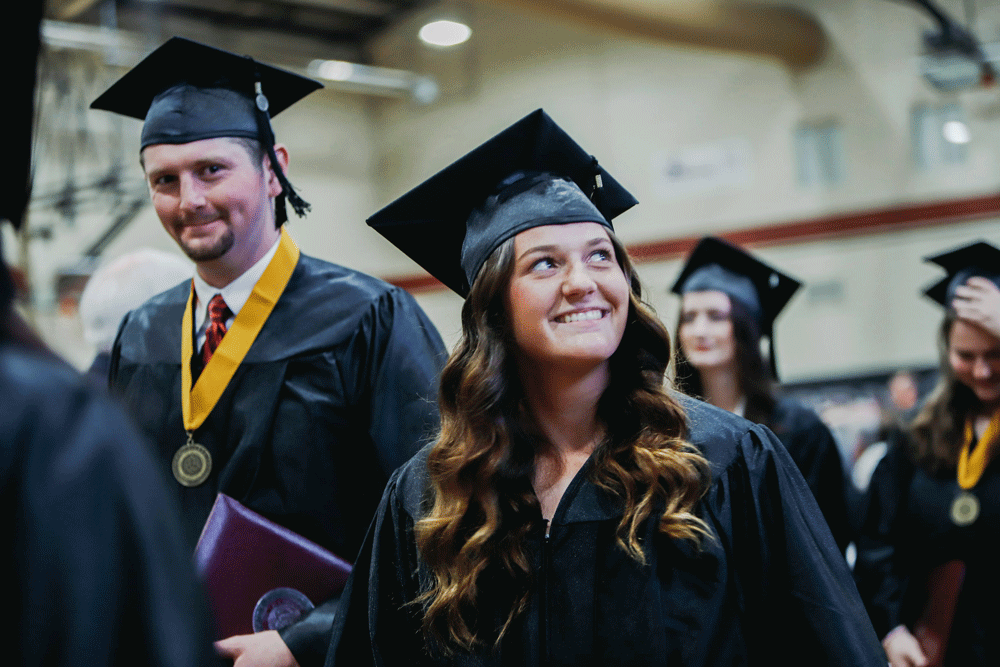 This year, on Saturday, May 6, families, alumni, and friends joined the University joined together to celebrate the Spring 2023 graduates. This commencement celebration also included a special addition in the procession—Nine Cairn alumni who graduated from the University 50 years ago, known as Golden Grads, were recognized and honored.
In total, Cairn University recognized 147 graduates. Of those 147 graduates, 104 completed their undergraduate studies and 43 earned their masters. 59 of the undergraduates were also the recipients of Latin Honors. Special recognition was made to those who earned the highest GPAs. Chloe Choy, Josiah Hasbrouck, Yisheng Sun, and Abigail Wagher each earned a 4.0 GPA. Mariana Onoe and Emily Rudacille each earned a 3.99 GPA.
Following the awarding of diplomas, Mr. Mark Jalovick took the podium to address the new graduates. Mr. Jalovick's address was particularly meaningful both to the audience and the speaker himself, as this year had been his and his wife, Dana Jalovick's, final year serving in the Cairn community, where they were now entering into retirement. As he reflected on his own life, Mr. Jalovick contemplated what God taught him and Dana throughout their various experiences. With each new change or opportunity came difficult challenges and obstacles, but Mr. Jalovick added that, in the midst of fearing and feeling unprepared in new circumstances, he also received equal measures of grace and growth from the Lord. As he continued to describe his spiritual growth through those times, he spoke into the lives of the graduates ready to step into the next phase of life, where they would be called to balance applying all the preparation they received with facing unexpected hardships of life they may encounter that cause fear, uncertainty, or doubt. Through sharing his own story, Mr. Jalovick encouraged the students to remember the steadfast provisions of God in the midst of those times.
Congratulations, Class of 2023!