To say that passions were running high during the Round of 32 and Round of 16 voting of PBU's 2012 March History Madness Tournament would be an understatement.  The tournament, in which students, families, alumni, and friends of PBU are voting to determine the Most Influential American in History, held its second and third rounds on Wednesday night, March 28. The rounds continued the Athenian democracy voting of the Round of 64, but that did not stop debates over the match-ups from bouncing around the room.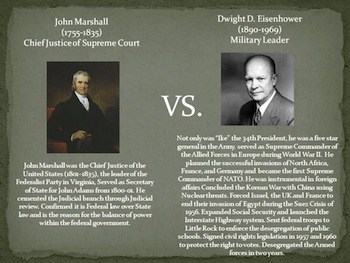 When John Marshall, the Supreme Court Chief Justice who cemented the role of the judicial branch of government through the concept of judicial review, faced Dwight D. Eisenhower in the Round of 32, they came out in a tie. A moment was allowed for the voters to debate with one another, and the discussion went something like this:
Student 1: "Judicial review changed everything!"
Student 2: "Eisenhower saved Europe!"
Student 3: "Patton was a better General than Eisenhower. Don't give me that!"
The debate ended with one table chanting, "Ike! Ike! Ike! Ike!" before the revote occurred.  Fortunately for Eisenhower, a few new voters had arrived during the minutes between the votes, because none of Marshall's supporters were swayed. The final tally showed Eisenhower moving on to the next round, beating Marshall 20-16.
PBU alumni and founders of the March History Madness Tournament, Sarah Vieldhouse '10 and Holly Mosely '10, both joined in the voting at PBU for the rounds. Another alumnus, Eric Dimitri '09, brought four of his high school students from Tacony Academy Charter School – they all joined in the spirited debates, and may have swayed the results on a few match-ups. They had a great time and are all excited to come back next week.
Humor wasn't lost, even with the impassioned debating. A conversation that went on between two students while people were considering whether Elvis Presley or Walt Disney was more influential reminded everyone to keep a light heart:
Student 1: "Did you know Disney was also an FBI informant?
Student 2: "Does that help or hurt his case?"
Student 1: "It helps! He was also influential in government affairs!"
Student 2: "Well, Elvis isn't even dead!"
Trevor Smith, the Secondary Social Studies Education and Bible major who last week was quite confident about Teddy Roosevelt's prospects, found himself facing devastation with tongue in cheek: "Washington won over Theodore Roosevelt. March 28 is the night that my whole historical world has fallen apart. I may even change majors, I may go into accounting, I may begin an advertising agency, I may go back to Broadway, but I am seriously considering ending what would have been a long career as a high school history teacher. I will probably do nothing but cry tonight."
Tim Hurd, a senior Business Administration and Bible major, was looking forward to hearing new voices in the competition: "Both Jackie Robinson and Elvis Presley were phenomenally important in terms of pop culture," he said, "but it's hard, in our context, not having lived before them, to imagine what it would have been like to see these people change things. That's why I'm excited about the online voting. We can broaden our demographic."
The students and guests have narrowed the field down to eight contestants in the live voting rounds and will continue the debate in the final rounds in two weeks.  However, the time has come for online voters to weigh in with their votes on the Most Influential American. Voting is live now at the link, and the schedule will go as follows:
Online Voting for the Quarter Final: March 39 through Monday morning, April 2
Online Voting for the Semi-Final: Monday morning, April 2 – Thursday afternoon, April 5
Online Voting for the Final: Thursday afternoon, April 5 – Tuesday morning, April 10
Online Voting for the Winner of the 2012 Tournament v. Henry Ford (Winner of 2008 Tournament for Most Influential American) – Tuesday, April 10 – Wednesday afternoon, April 11
Students will gather to debate and vote in the final rounds next Wednesday evening, April 11.
See last night's results and vote in the Quarter Finals. Short biographies of the participants are linked to the bracket.